When I found out Black Button Distilling's founder Jason Barrett was looking for a Regional Manager to expand the consumer reach in New York State, I knew I had an opportunity to fulfill one of my own requirements.
The Next Step:
I was at a crossroad in my life in which I wanted to accomplish something different after basically 25 years of doing the same thing. Maybe it was starting my own business instead of managing someone else's. Maybe it was adapting my skills from the hospitality world to another industry altogether. I wasn't sure. However, I did know that I wanted to be proud of my next step. I wasn't going to just settle to stay busy. My own business or my next career move was going to offer me three things: a new direction, a chance for me to share my skills and a sense of pride that would drive me.
Why Black Button?
Jason likes to hear why applicants feel as though they would be a good addition to the Black Button team specifically.  I did my research.  I knew the brand.  I liked the story and the processes.  In my "Why Black Button" letter, I wrote things like:
I want to be proud of where I work, the product I represent and the people I work with.
Without pride, there is no enthusiasm or dedication.
It seems evident that Black Button's core values, reputation and management philosophy would resonate with me.
I believed it when I wrote it. However, when you start a job and work with new people, you never know for sure.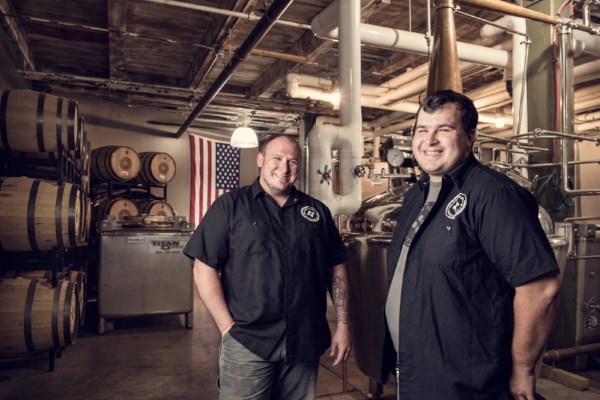 Inspiring & More:
Well, I'm here to report that it's all true. "Pride in your craft" lives and breathes at this distillery! From the serious-working but always-time-for-a-laugh Production Distiller Jeff, to the I-love-this-brand-and-will-tell-the-world Tasting Room Manager Laura! And so many more that are uniquely dedicated, they all have such an inspiring drive to contribute and not only make things right, but make things better as the company grows. There are no slackers here. You can't anyways. You'd be steamrolled by the speed at which Black Button Distilling moves! Once I met the people behind the brand, I discovered new levels of enthusiasm and dedication. I discovered individual and collective pride. I learned philosophies that aren't always the core values of other organizations… And I loved it.
Enjoy it while you got it!
My intention with anything I do is to be dedicated and do it until I can't. I don't know how long I'll be lucky enough to feel this inspiration I currently hold as a member of the distillery team, but while I have the opportunity, I will bring pride to my craft and hopefully assist the growth of not only the company but the team members I manage and work side-by-side with.
I hope you can find pride in your own craft. And hey…It doesn't have to be your job. It may be your weekend hobby, your family gatherings or an organization you donate time to. Give something enthusiasm and dedication and you'll find yourself knee deep in a barrel of pride.
Cheers!
–Michael Martin, Regional Manager