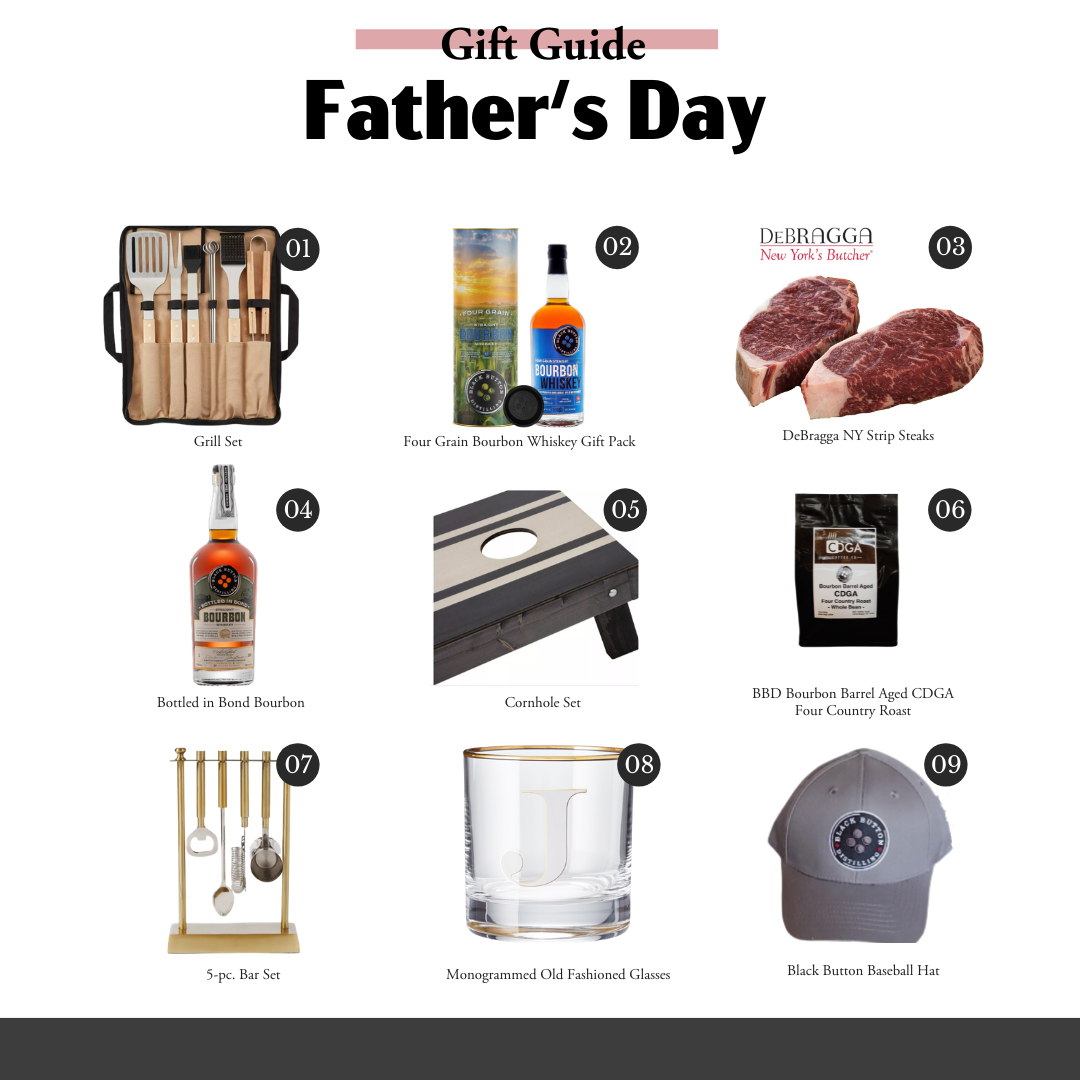 With Father's Day just around the corner, these bourbon gifts for dad will make a bold impact for that special parent. We know a thing or two about bourbon drinkers — so we've rounded up the top nine gifts for the occasion. Whether it's for a father, grandfather, or parental figure – the following bourbon-focused gifts will upgrade their bar, barbeque, parties, and spirit stash.
1.) Crate & Barrel Wood-Handled 9-Piece Barbecue Tool Set ($69.95)
Upgrade his grilling tools just in time for a summer full of outdoor barbecues. And there's nothing like manning the grill with new tools and a glass of well-made bourbon in your hand.
2.) Four Grain Bourbon Whiskey Gift Pack ($50)
No need for wrapping when it looks this good! It'll standout on his home bar, and the ice-cube mold is especially perfect for the Black Button bourbon fan. Just pick up a card and you're all set!
3.) 4-Pack of DeBragga Dry Aged Prime New York Strip Steaks (149.95)
The ultimate bourbon lover needs the perfect cut of steak, and we have just the answer. You won't find a more perfect pairing! He can sip on his favorite bourbon while he cuts into the most tender, premium cuts of DeBragga beef.
Pro-tip: Use code BLACKBUTTON10 for 10% off!
4.) Bottled in Bond Bourbon ($125)
Does he search for extremely rare, limited release bourbons? You've come to the right place. Give him the gift of our special Bottled in Bond Bourbon. Often credited with being one of the first consumer protection laws in U.S. history, the Bottled in Bond designation is reserved for spirits that have risen to meet some of the highest standards in the industry.
5.) Victory Tailgate Rosewood Premium 2×4 Cornhole Set ($199.99)
Cornhole is the quintessential backyard game. He'll show up to any party or tailgate in style with this sleek wooden design!
Hint, hint: Tossing a bean bag only requires one hand. His other hand is totally free for a glass of bourbon.
6.) Black Button Bourbon Barrel Aged CDGA Four Country Roast ($25)
Is his love of coffee just as strong as his love of bourbon? We've got the perfect gift to scratch both of his itches. And he'll think of you every time he sits down for that first sip of his morning coffee!
This coffee is the signature blend of CDGA Four Country Roast aged for at least two weeks in Black Button bourbon barrels. The beans are then roasted as a medium roast to balance out the beautifully unique coffee flavors and the subtle bourbon notes.
7.) Target 5-Piece Bar Set ($30)
Perfect for the home bartender guy. He can mix up Manhattans, Old Fashioneds and more with this gold 5-piece bar set!
8.) Williams Sonoma Set of 4 Monogram Double Old Fashioned Glasses ($59.95)
These gold-rimmed, monogram glasses will put a nice personal touch on his Father's Day. Every bourbon drinker needs a glass that matches the quality of the spirit inside.
9.) Black Button Baseball Hat ($15)
Is he a die-hard Black Button fan? Get him one of our ultra-comfortable baseball caps. He can show off his Black Button pride any time he leaves the house!